Join the movement for the Schools- L. A. Parents, Students, and Educators Deserve! — Presentation to United Teachers of Los Angeles on September 21, 2014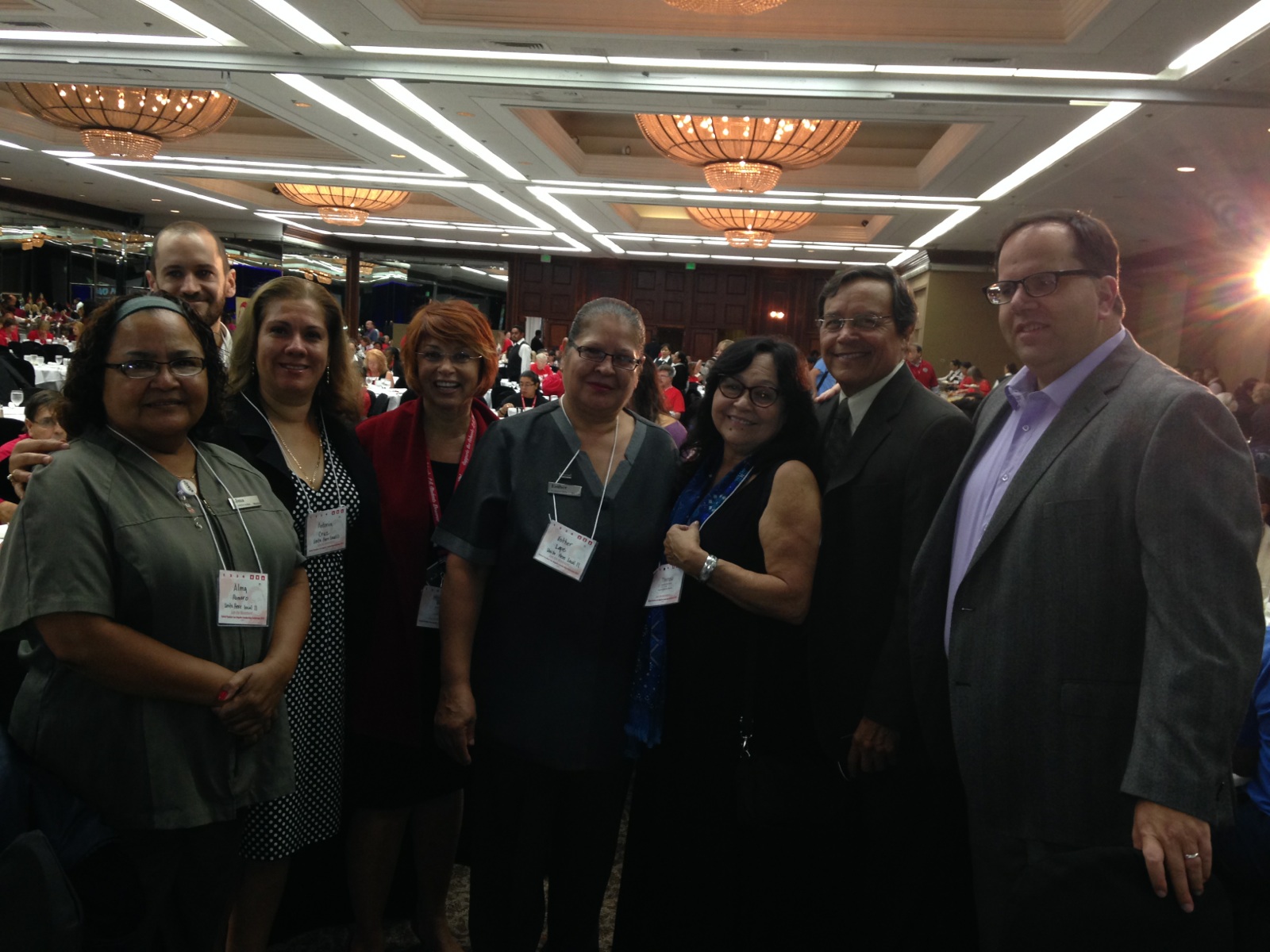 Muchisimas Gracias por la invitacion de U – T – L- A – Maestros y Maestras Unidos y Unidas de Los Angeles. Estamos aqui listos para salir de este cuarto para mover adelante un gran movimiento para nuestras escuelas – un movimiento que puede unir nuestras familias, nuestros estudiantes, y nuestras maestros y maestras para desarollar una coalicion fuerte para el mejoramiento de el Sistema de educacíon en nuestras escuelas y en nuestras comunidades.
Siempre comienso mis presentaciones en espanol para ensenar la fuerza de lenguaje – y tambien para esenar un ejemplo de algo que se puede usar como forma de opresion o de liberacion. Si uno no puede participar – es muy duro desarollar las mas altas posibidades de desarollar nuestras capacidades. Cuantos de ustedes me entienden? Bueno, a todos ustedes que me entienden – Les damos una A y a los demas una F.
I will stop here because I know that there are many of you who do not understand Spanish.   I began my presentation by thanking UTLA for inviting me to be here with you today – and why we are here – all of us, at the end of this conference – ready to go out of here to move forward a great movement that can unite our families, our students, and our educators in advancing a strong coalition to build the types of schools that our students and our communities deserve. I explained that I always begin my presentations in Spanish to reflect power relations – and to show, for a moment, how exclusion can be used as a form of oppression. If one is not able to participate, there is no way that one can develop one's capacities to the highest levels. I asked how many of you understand me – and shared that those who understood me would receive an A and those who did not – an F.   We know that this form of structural exclusion can result in low self-esteem in our students with a belief that they are responsible – and a power structure that places the blame on our teachers – and not on the historical or systemic conditions that are the foundations of the problem.
I cite this short biography only as an example in terms of the connections that are needed between our personal history and passion — the history of generations of our mothers, our fathers, our grandfathers and grandmothers – whose labor built this country – and whose struggles helped ensure the use of taxes for our educational system today.  It is important for us today to not forget the foundations of those victories and now build organizing efforts to ensure that there are no takebacks to those accomplishments – and work to change the inequities that are now being placed on the backs of our teachers and workers.
With the growth of a global economy, there is the need for a type of educational system that promotes the building of new models toward a democratic society. However, there is a trend emerging in our present educational system that wants to take us back to the days of reproducing individuals to fit a more authoritarian philosophy. This trend seeks to promote a managerial "banking" system where the power of disseminating knowledge is being transferred to the needs of the business and political establishments. This shift fits into the early twentieth century industrial model of schools where students were socialized in assembly-like rows to be taught the status quo and not to be heard from. With the promotion of standardized tests and quantitative methods that evaluate the performances of both teachers and students, there is a diminishing of the space for the creation of democratic bridges between what is being learned in the classroom and the challenges of democratic decision-making in our communities. This trend is characterized by the growth of for-profit corporate charter schools and companies who are redefining the meaning of education by taking money out of public schools. The Vergara v. California lawsuit, where a judge struck down tenure and other job protections for California's public school teachers as unconstitutional, is an example of seeking someone to blame. In the debate over the state of our educational system, unfortunately — many taxpayers have been led to believe that the issue is only about the quality of our teachers and not about the structural inequities that many of our underrepresented students and their families confront every day in their communities.
The scapegoating by this conservative trend in our society is one that advances a thinking that low test scores are caused by bad teachers – and that if you Get rid of the bad teachers — all students will get high test scores.  The reality is, as we know, that teachers do not give tenure to themselves. Instead of acknowledging that test scores are highly correlated with family income – instead of acknowledging the structural issues of large class sizes, the lowest per pupil funding rates of k-12 schools in the nation, the decrease in programs and services for students with the greatest needs, the cuts in staff and pay raises; and the limited access to public preschool — they prefer to blame teachers and the very idea of public education.   I do hope that, on appeal, a wiser court will see that, while the process for removing ineffective teachers perhaps can be improved – that the improvement of education will not be done through laws that blame all teachers, campaigns by privately-funded corporations, and solutions that leave out the economic, resource, racial, and historical factors ( the foundations of many of the problems in our educational system). This trend, brothers and sisters, — rather than tapping the passionate reason as to why so many college graduates become teachers — vilifies teachers and is forcing many to turn away from the educational world as a career. This trend is based on misinformation – but, brothers and sisters, who is better to correct that information – than all of you – the educators who are the closest to our diverse communities.
With so many problems being faced by our society, there is the need for coalitions and strategies that all of you have been discussing at this conference between our teachers, students, community-based organizations, and educators in advancing new forms of research, learning, and practice that can help develop a citizenry and a leadership in the future that is engaged and excited about participating in making the future society — that can engage our educational leaders in advancing principles of collectivity that go against the grain of individualism and enhancing the skills of working with diverse populations, creating new knowledge, and formulating solutions to real world problems. That is why I am so heartened by the UTLA strategy of not just taking up the issues for social justice at the workplace – but being out there in supporting our immigrant children who were brought to this country at an early age – supporting their families – and bringing to light the many contributions that they have made – walking alongside of them outside of the classroom – in the neighborhoods where they live – and bringing to light the issues of violence, poverty, drug cartels, and transnational government policies that have brought them here. I am heartened by your stances against racial violence in many places, such as Ferguson and your solidarity with quality of life issues and organizations in our communities. It is this type of solidarity in action that will in turn – I can assure you – deserve reciprocity in the campaigns that you are waging – campaigns that hearten me and our diverse communities — campaigns to win lower class sizes; to ensure rightful wages and staffing to meet the needs of an increasingly diverse student body – with a curriculum that includes the importance of music, the arts, and ethnic/gender/LGBTQ studies. There are examples of a movement, (and UTLA has been part of that movement in winning many victories for educational justice since the 1970's) — but especially now is part of a contemporary movement where educators are developing coalitions with parents, students, and community-based organizations in reducing standardized testing, in having a voice in elections, in stopping the disrespect of "teacher Jails, and in turning top-down decision-making into bottom-up democratic spaces where those whose labor is the foundation of the "seeds and fruit of pedagogy" in those classrooms – is, not only listened to, but given a prominent place at the decision-making table.
We are together on this, brothers and sisters, an injury to one is an injury to all – and support for each other – will only build higher levels of unity.
On this, let me say — Our support for these initiatives is based – has to be based on a type of teaching, learning, and organizing where: there is a passion for creating spaces of equity; where students are exposed to a curriculum that does not just deal with the problems in the society but that looks at the systemic and structural aspects of inequity; that brings to center stage the contributions of communities who (because of poverty, racism, sexism, classism, or homophobia) have historically been excluded from our textbooks; and that involves students in working alongside excluded communities on common projects to implement transformative social change.
As we seek to develop coalitions, it is important for us to look toward new ways of carrying out democratic forms of learning and curriculum building in our classrooms that connect to new models of building democratic participation in our communities– new models that can help in advancing a more democratic and socially just culture in our society.
It is important for all of us – to absorb the meaning of our capacities that we have to create – why that capacity was diminished – and how we have the ability to cultivate that capacity back. As leaders in the educational realm — we are called by our communities to be problem solvers.
We need you to cultivate – to create spaces in our homes, programs, and with families that are examples of the kind of world that we want to live in.
But, in addition to cultivating and creating those spaces- it is essential to build a powerful and political social movement – where we are together – not alone as individuals – but in coalitions, in partnerships – in finding a common ground with students, parents, and community-based groups – to take on the challenges of organizing our co-workers – in our unions, in our communities to build a strong movement that can build the types of schools, the types of education, and the types of unities among our diverse communities that our students and families deserve — to get involved in building new collaborations to ensure that the priorities of this city – of this country — are not just about profit for a few – but are about sustaining and ensuring the resources necessary for the many.   Let us all cultivate together — then — so that our families, our students are not excluded – are not silenced – so that our future generations — have the type of high quality education, nutrition, healthcare, and caring that they deserve—that all of you – the teachers, the learners, the educators — the backbone of this society – are not excluded – not silenced – but receive the kind of respect that you Deserve. Si Se Puede!