Spring Employment Expo & Hiring Spree
Thursday, May 19, 2016
9:00 AM – 12:00 PM
Ganesha Park
1575 North White Avenue, Pomona, CA 91768
For more info, contact:
David McElwain, CDP Supervisor
Phone: (909) 392-8070
Email: mcelwain_david@lacoe.edu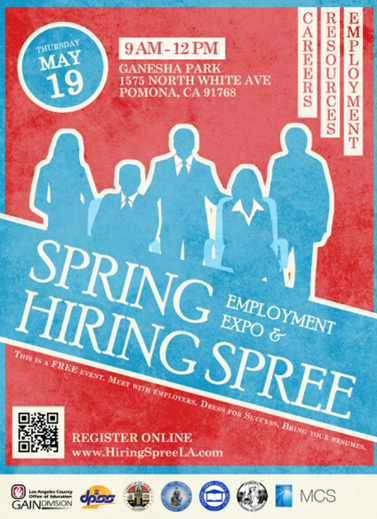 ---
You're Invited
Willie White Park Focus Group
Neighborhood Watch Meeting
Thursday, May 19, 2016
7:00 p.m. – 8:30 p.m.
Willie White Park Community Center
Free Refreshments
Great Door Prizes 
Be a Good Neighbor . . . Bring a Neighbor
---
SAVE THE DATE!
JUNETEENTH CELEBRATION of FREEDOM
Thursday, June 16, 2016 | 7:00 p.m. – 9:00 p.m.
Willie White Community Center
Plan to join us for a good ole fashion potluck of
Collards, Bar-B- Q ribs, Peach Cobbler and what you're bringin'.
After the eatin', finish the evening with a great lesson in American History for students of all ages about the
Underground Railroad by noted historian
Chris Frausto
You gotta come . . . See you in June