May 2023
Upcoming Events
---

Let's Play Loteria!

Join Us May 11, 2023!
In celebration of Mental Health Awareness Month, Tri-City's ADELANTE! Latino and Hispanic Wellness Collaborative has partnered with Latino and Latina Roundtable and Cafe con Libros for a Lotería Break!
This event is free and no registration is required. Bring your family and friends, enjoy some light refreshments, and play Lotería (with a mental health twist!).
📍 Café con Libros Press
280 W 2nd St, Pomona, CA
📆 Thursday, May 11
⏰ 4 pm – 5:30 pm
Unete el 11 de Mayo!
¡En celebración del Mes de Conciencia de Salud Mental, ¡ADELANTE! Colaborativo de Bienestar se une con Latino/a Roundtable y Café con Libros Press para ofrecer un "¡Descanso, y jugar Lotería!"
Este evento es gratuito y no se requiere registro. Traiga a su familia y amigos para disfrutar de aperitivos ligeros y un juego de Lotería (¡Con un toque de salud mental!).
📍 Café con Libros Press
280 W 2nd St, Pomona, CA
📆 Jueves, 11 de mayo
⏰ 4 pm – 5:30 pm
---
Ride and Drive Event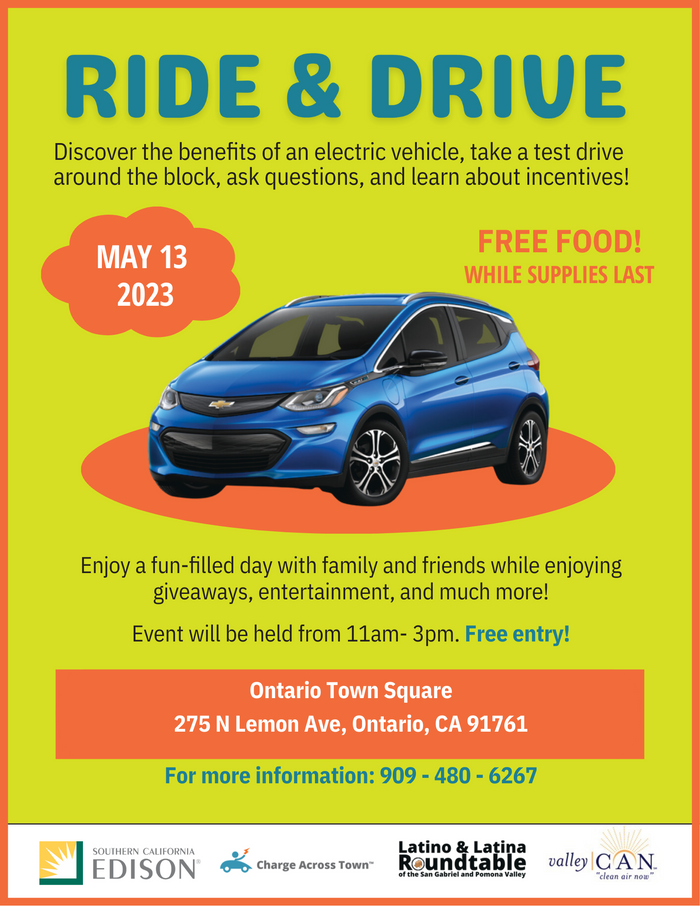 Join Us May 13th!






The Latino and Latina Roundtable in collaboration with Vegan Depot, SCE, CAT 
and VCAN would like to invite you to join us on their first-ever Ride and 
Drive event!





Join us for an event in ONTARIO, CA on Saturday, May 13th! Free FOOD!




Test drive an EV! SCE Resource Fair! Learn about EV incentive programs! 🚗





Location: Ontario Town Square





275 N Lemon Ave, Ontario, CA 91761





Time: 11:00 am - 3:00 pm

Únete a nosotros el 13 de mayo!





¡Latino y Latina Roundtable del Valle de San Gabriel y 
Pomona en colaboración con Vegan Depot, ValleyCAN, 
SCE, y CAT quisiera invitarlo a unirse a nosotros en 
su primer evento Ride and Drive!





¡Únase a nosotros para un evento en ONTARIO, CA el sábado 13 de mayo!




¡Comida gratis!




¡Prueba de conducción de un vehículo eléctrico!
 ¡Feria de recursos de SCE! ¡Aprenda sobre los 
programas de incentivos para vehículos eléctricos! 🚗





Ubicación: Plaza de la ciudad de Ontario




275 N. Lemon Ave, Ontario, CA 91761





Hora: 11:00 am - 3:00 pm
---
EmPOWER
Need help with utility bills and debt? Interested in a new electric vehicle? Need assistance passing a SMOG check? Would you like to improve your home with little to no cost? Apply to emPOWER and find out which programs you qualify for!
For assistance call (626) 600-9498
---
CLEAN ACCESS CA

Save money and reduce pollution!
Get thousands of dollars to upgrade your car, switch to transit, or install clean energy in your home.
Learn More!